Introduction of Christmas Tree and Christmas Time
The Christmas tree is twinkling in the flickering candle lights, carried by its thick green branches. The candles remind one of the stars in the sky at the birth of Jesus.
The smell of the fresh tree fills the room and whoever is standing in front of the beautiful and dazzling tree. It takes into the remarkable vivid memory of childhood. The excitement and joy, the tension and anxiety of which we are "full to the brim" are some of the feelings one can express.
Father Christmas has arranged the presents under the tree and several hungry eyes. It belongs to both young and old, cannot wait to reveal what lies beneath the paper wrappings.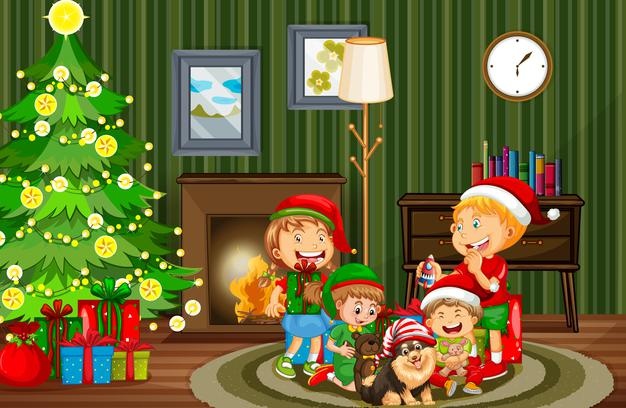 The tree is one of the main keys to the real Xmas feeling. Yet, which tree should choose? This is a difficult question because it will be joining the family and friends throughout the Xmas celebrations. It will decorate passionately and the family will gather around it to celebrate the Nativity, the birth of Jesus, in peace and harmony.
Should It Be a Real Tree?
Should it be a real tree, created by Mother Nature with its characteristic smell, to use for this particular upcoming Xmas? Or should it be an artificial imitation, which unfortunately does not share its fresh scent but can use more than once?
Every family should judge for themselves, this might take a long time and some long family debates, but in the end, everybody will delight. So, take your time.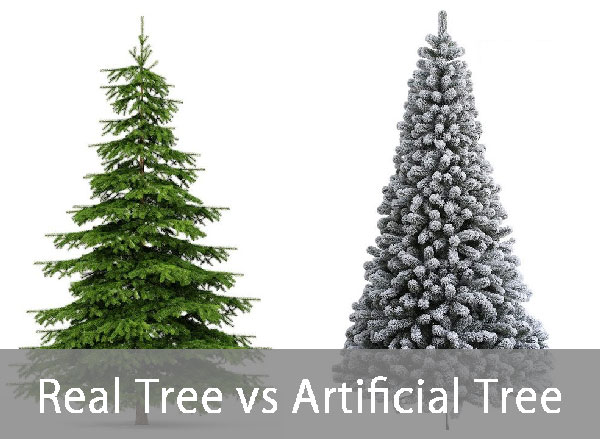 Besides, once one has made this delicate decision, what about safety? Should we use real candles with their glowing, sparkling light? Which cannot leave out of sight or should we choose the safer electric lights? Where we can decide if they should be colorful or even blink?
Also, what about the disposal once Christmas is over? How long does the tree remain indoors? The real tree is biodegradable and easy to dispose of, yet what about the artificial tree? As you can see there are many questions we should think about while the Christmas feeling arises.
The History of The Christmas Tree
Not only one story exists on this topic for everybody has their own traditional story. Here we would like to highlight the tradition of placing trees into our living rooms.
The custom of placing a tree at Christmastime is quite young.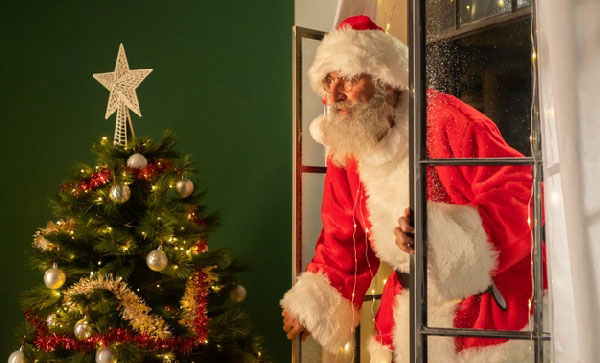 It was not until the 19th century that the coniferous tree. A tree that produces cones that has needles and stays green all year, named Xmas tree, became modern.
The decorated Christmas tree was first mentioned at the end of medieval times. A precise date cannot state.
What I can say is that the guild houses put up evergreen trees in the 16th century and these were richly decorated. The literates of the 18th century give details on how the tradition spread.
Goethe for instance wrote in his "The-Sorrows-of-Young-Werther" of the paradisal delight at the sight of a tree decorated with apples, wax candles, and sweets.
In the 19th century, E.T.A. Hoffman presents the Christmas tree as the main object during the celebration of Christmas in his work "The Nutcracker and the Mouse King".
The Christmas tree was told to have spread from Germany to England and from there on to the USA and eventually. It spread its way throughout the world.
What kind of Christmas Trees are There?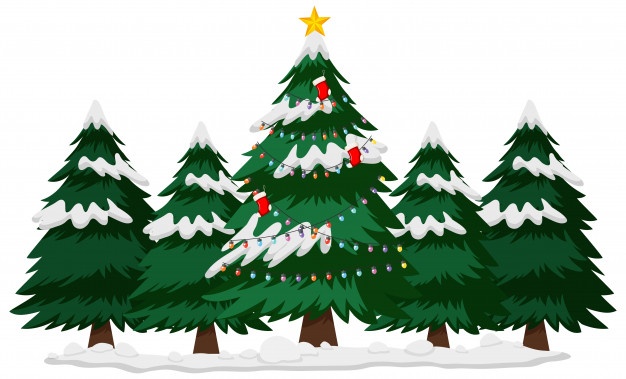 The common Nordmann Fir has magnificent shiny needles which are deep green. The branches are strong and even, perfect for carrying heavy ornaments and this tree lasts quite a long time and stays fresh looking.
The Noble Fir has terrific soft blue-green needles and its branches are even and strong as well. As the Nordmann Fir, this tree is perfect for heavy ornaments.
The Pine is also used as a Christmas tree. There is a range of pines from which you can choose
Afghan Pine, or Eldarica Pine, is native to the Mediterranean region. It has symmetrical branches and long dark green needles.
Austrian Pine is native across Europe, Asia, and northwest Africa. It has dark green needles.
Red Pine is native to northwestern North America. It has dark green leaves.
Ponderosa Pine is native in western North America. It has dark grey-green needles.
Scots Pine, also seen as Scotch Pine, is native to Europe and Asia. It has dark green leaves.
Virginia Pine is native from Long Island to western Tennessee and Alabama.
It is often used as a Xmas tree and it has short yellow-green needles, and the White Pine which is native to North America and this one has green needles.
The Spruce has a pyramidal shape. There are about 35 different species of which some use as Xmas trees. The Blue Spruce, or the Colorado blue spruce, is an attractive tree often used for Christmas trees. It has a pyramidal shape, a cone-shaped crown and it is symmetrical. This one has wonderful blue leaves.
The Douglas-fir is not related to the true firs. It has spread to hanging branches and the needles are dark green or blue-green. This tree is perfect for fine and light decoration.
By the way, until the tree can place in your living room it has been growing for about 8-15 years. Which is quite a long time.
Another option for the real wood tree is the artificial Christmas tree made of plastic and metal. Some trees are already decorated and you can use them year after year without having too much effort. Whoever prefers to decorate by themself and even prefers to do handicrafts can use the pre-Xmas time to get into a cheery and merry Christmas mood.
How to decorate the tree is a tricky question. There are so many articles you could buy to decorate it. You could keep it simple and decorate your tree with straw stars, wooden stairs, and figures. You might want to decorate your tree, as people in former times used to, with delicious apples and colorful sweets. Here is the best guide on how to decorate a Christmas tree.
But, you are the kind of person who prefers Xmas balls, tinsel, and electric lights. Whichever decoration you choose, you may not forget to place a star at the top of the tree, for this star represents the star of Bethlehem.
Safety Questions About The Christmas Decoration
This wonderful time of year is also one of the most dangerous. Fire hazard is highest at Christmas time and New Year's Eve. Many people love the warm light of wax candles on the Christmas tree and the wonderful smell of real beeswax on the advent wreath.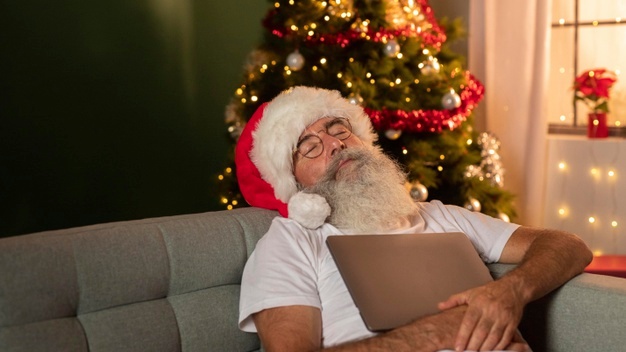 Some easy tips you should follow
Always be careful and pay attention to open fires.
Never leave children and/or pets alone in a room where candles or any open
The light source is burning.
Blow out all candles before you go to bed or leave the house or apartment.
Exchange all candles before they have completely burnt down.
Place your advent wreath on a fireproof underlay.
Freshly cut trees lose fewer leaves and contain more moistness, so these will not burn as fast as dry trees and leaves.
Do not leave paper wrappings under the tree with burning candles.
Keep the tree away from furniture and curtains.
Be sure that the tree is in a stable position and cannot tip over.
Last but not least
Even if you might think this idea is strange and you think it might be over-cautious a bucket full of water in your living room can save lives or a lot of money. A fireproof blanket can be helpful to stop the fire if it starts. Safety is an important matter everybody should think about.
Even so, Christmas is also a good time to teach young children how to handle candles certainly only when adults are around. Do not forget to teach them the emergency phone number of your country and what to say in case of an emergency.
The international emergency phone number for GSM mobile phone networks is 112 and in all European Union countries, the number is also 112. In America the emergency number is 911 or 311, in the UK it is 999 and in Australia, it is 000.
Disposal of Christmas Trees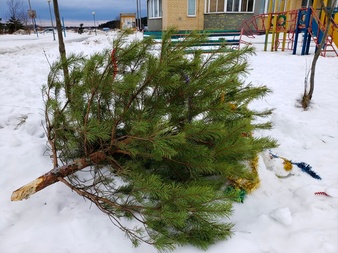 After Christmas is over when and how do I get rid of my tree and what is best for the environment?
What time do you get rid of the tree? which by now has spent quite a good time with you and your family, on, believe it or not, which confession do you belong to. The Protestants usually start de-decorating the tree at the beginning of January (Epiphany 06.01). Whereas the Catholics start at the beginning of February (Candlemas 02.02).
Way of Removal and What is Best for The Environment
Sooner or later you will face the question of where to deposit the tree. Again hereto there are so many different answers.
An inflatable tree is of course easy to get rid of, here you have to pull out the plug and deposit it somewhere neatly until next X-mas.
For those who have had a natural Christmas tree
It is nearly as simple. Almost all cities offer a recycling program and are happy about keeping a clean city. The trees are collected on special dates, the greenery recycling pick-up date. And the trees turn into compost or mulch so that renewable sources return to the environment.
Please cut the trees in half if they are very long, this is a big help for the guys getting rid of your tree. Even trees with artificial snow accept, so please do not dump your tree or any other items, please help keep our cities clean.
What about the artificial tree?
Here we have different solutions again. Best, of course, is to store the tree in a safe place, as in a box or a storage container, so that it does not get damaged and then it can use year after year.
Still, statistics show that most trees throw away after about 10 years. Seeing it is made of plastic it is best to bring it to a recycling center instead of throwing it into the garbage.
We wish you all a Merry Christmas!
Other Popular Topics on Miniten.guide