Introduction of Natures Head – The Best Composting Toilet
In this article, we'll talk about the best composting toilet "Natures Head composting toilet". Why it is better than other typical RV toilets. The full breakdown review and exciting features of Natures Head composting toilet and all about the pros and cons of this camping toilet.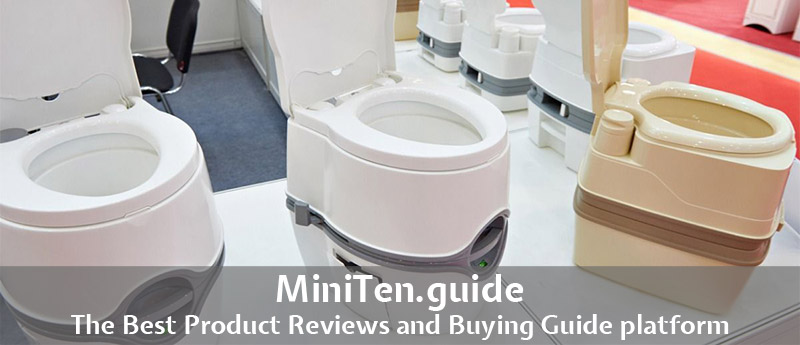 What is a Composting Toilet?
A toilet is an essential part, whether it can be a tiny house, tent camping, an RV, or a boat. But a typical toilet is not always viable. That's wherever a composting toilet comes in. It doesn't matter if you are not able to run a water line or install a sewer drain.
A small composting toilet offers you all these together. It uses a dry system to turn human solid waste into eco-friendly soil-building compost.
A composting toilet brings you a lot of cool features and a cheaper option. It is more powerful and useful than a typical portable RV toilet. The main difference between a composting toilet and a regular RV toilet is that when you use an RV toilet, everything goes into the black holding tank.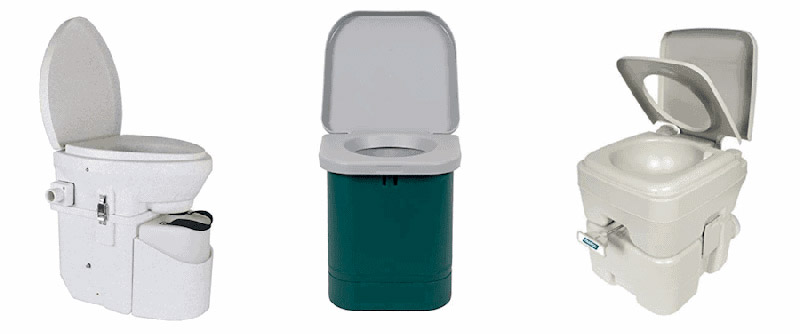 It sits there waiting to dump, and its liquids and solids are in there together. It kind of becomes sewage, that is a gross mess. But, a composting toilet has its holding tanks. So the liquids go into its front holding tank, and the solids go into the body of a composting toilet.
The main thing about the composting toilet is that it keeps liquids and solids separate. That's why there is no sewage, so since there's no sewage, it's easier to dump a composting toilet than other RV toilets. The liquid can go to any toilet so if you are in an RV park and there are facilities for dumping the liquids.
You can dump the liquids into any toilet and the solids that go in the body of the composting toilet get dumped into any trash bag and can throw into a dumpster.
How Does a Composting Toilet Work?
A composting toilet requires that you use a composting medium of some sort, which can either be Sphagnum peat moss or coconut coir. But, it'd be best if you use coconut coir as your composting medium because there aren't any bugs in it. Sometimes there might be Sphagnum peat moss that can have insect larvae in it.
When you are using a composting toilet, you know that the solids go into the composting toilet body.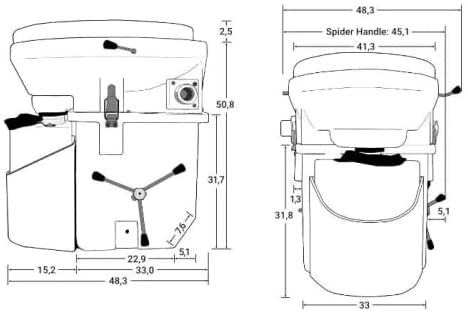 After dumping the toilet, the composting medium places backside the toilet's body, and it is kept dry by a mini fan. It is pulling air into this Inlet and then out through the exhaust on the other side of the composting toilet.
An ideal composting toilet works in two parts.
When you sit on the toilet to use it, you'll find two holes on the front side of the composting toilet. The holes allow us to go out of the liquids in the liquid tanks. And part two is there is a trap door that opens up by pushing the handle down, and then the trap door allows the solids to fall into the body of the toilet.
After using the toilet, you need to agitate the composting material and solid waste in the holding tank by rotating the toilet's lever. It ensures the mixes the composting medium with solid waste.
How to Use a Composting Toilet?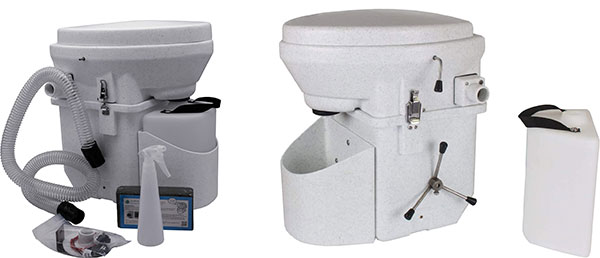 A composting toilet is very easy to use. You can install it in any tiny place and use it anytime you need it. A composting toilet has a huge waste capacity tank so that you can use this toilet for at least 4-5 weeks.
Then I'll be full and it's time to clean the waste tanks. Quickly empty your containers and add composting medium into the solid waste tank. It is ready to re-use now.
Natures Head – The Best Composting Toilet Reviews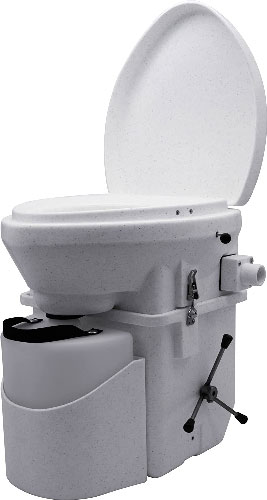 Natures Head composting toilet is one of the most popular portable composting toilets for RVing or camping. It has some extraordinary features. It has a modern latest design looks, and it is value for money. Let's get deeper into the main features of this best composting toilet.
Natures head composting toilet comes with superior build quality. To process human solid waste, this composting toilet for RV has a standard crank handle. By using this crank handle, you can mix your solid waste with the composting material. It has a built-in 12V fan that runs air into the waste tank and keeps it dry.
The seat height is a very comfortable and clean design. It provides you extra room comfort while using Natures Head composting toilet.
Natures Head composting toilet is compact and small. It is suitable to fit into any small space. The weight is around 28 pounds which allows you to move without any issues. The product dimensions are 22 x 20.5 x 21.7 inches, and the seat height is 20″.
This composting toilet is very convenient to use. It is very easy to install anywhere within a minute. It has a liquid holding tank and a waste holding tank. When it gets full and needs to be empty and clean when possible.
To empty the solid waste tank, a 13-gallons kitchen trash bag would fit around the external of the composting bin. No need to use extra water, and it offers you the most comfortable experience and homey comfort during the job.
The product has a floor-mounted Installation method, and it can be set on your RV or any flat surface. It is stable and durable. It does not need to set a water pipeline like other typical toilets. It comes with a DC 12-volt adapter (3Watt). You can plug in this adapter to work the composting and drying system into the waste tank.
This composting toilet has massive capacity storage for your solid waste. The liquid tank can store 2.2 gallons of liquid, and the solid waste tank takes 4-6 weeks to get full. This composting toilet offers you to empty these tanks within 5 minutes.
If you ask can you pee in a composting toilet, I can reply to you without thinking one second "Yes you can"? Cause it has a separate urine tank, and it allows you to pee inside the toilet.
No chemicals/No water uses
Some composting toilets need chemicals to compost the solid waste to reduce the smell. But the head composting toilet doesn't need any chemicals to compost the solid waste. It has an all-natural composting medium.
There are two different choices of Composting medium, either it can be Sphagnum peat moss or coco coir. I use coco coir. It has no bad smell during the composting system and is a very hygienic compost. To get coco coir, you can order it from here.
A normal toilet uses water every time it flushes after using the toilet. But with this composting toilet, you need to use zero water. That means your freshwater tank will consume slower. Also, zero water uses helps a lot to keep the toilet seat dry and clean.
Other typical toilets hold the wastewater and solid together, that's why those toilets produce a bad smell. But in this case of this Natures Head composting toilet, it doesn't smell at all because it has separated solid and liquid waste tanks. The composting medium reduces its bad smell, and the drying fan keeps it dry, runs out the bad smells, and keeps zero composting toilet smell.
This Natures Head composting toilet comes with a long-period warranty. It offers you five years of stressless usage. After-sales supports are fantastic. So you are getting a completely stressless experience having this composting toilet.
Natures Head Composting Toilet Pros and Cons
Pros
No bad smells at all
5 years warranty
Huge storage capacity
Comfortable to use
Easy to install
Easy to clean
Value for money
Stable and durable build
No use of water
Cons
It smells a bit during dumping the solid waste tank
No external vent
My Experience of Using The Natures Head Composting Toilet
I bought the composting toilet from amazon, and the first time it takes a bit of time to read and understand the system. It works very well, and I found the easiest way to install the best composting toilet.
I was able to adapt a vent opening to connect the vent hose to the existing toilet exhaust in the air stream. I faced only one issue with this Natures Head composting toilet. The issue is emptying the Urine tank.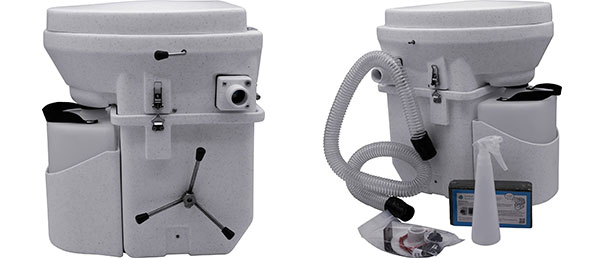 Though it is easier to clean the Urine tank, I have to empty it often, every 2-3 days for a single person after using this toilet. But the good news is the solid waste tank doesn't need to be empty often, this RV composting toilet has huge waste storage. We, 2 persons, use this toilet, it takes 5+ weeks to get full.
The cleaning way of this waste tank is pretty easy. I use a 13-gallon composting bag. When you're ready to empty the solid waste, do stretch the opening of a 13-gallon kitchen bag over the base over the rim to invert the base and empty the contents into the bag.
The Natures Head composting toilet is very handy for me.
Final Thoughts
Natures Head the best composting toilet is a complete solution for those people who are looking for a value for money dry composting toilet for RV, camping, or boating. It offers you more than its price tag.
If you are looking to compost a toilet tiny house, I can promise that the Natures Head composting toilet is the best composting toilet for RV. This toilet is something like the airhead composting toilet. But it is a cheap composting toilet than the airhead composting toilet.
It is Eco-friendly and super comfortable, easy to clean, and install. Nowadays, composting toilets are becoming a good choice for camping lovers or RVs because of their cool features.
I hope my honest opinion will help you get your camping toilet solution. Or, if you have any confusion about the Natures Head composting toilet, you can leave a comment below the comment box. Our expert team member will help you to get rid of the issue.
Other Popular Topics on MiniTen
How Much Do You Recommended This Post?
Summary
In this article, we'll talk about the best composting toilet "Natures Head composting toilet". Why it is better than other typical RV toilets.