Introduction of Decorating a Christmas Tree with Ribbon
Do you want to decorate a Christmas tree with a ribbon for the celebration of Christmas? But couldn't get the best guideline on how to put a ribbon on a Christmas tree. This article shares the processes, ideas tricks about ribbon purpose.
Today here is sharing the step-by-step tutorial of Christmas tree decoration with ribbon. To create a beautiful and festive display accent, ornaments, lights, a ribbon can add for decorating a Christmas tree.
You can decorate your Christmas tree with jolly and bright by following the full guideline. Right ribbon selection, basic ideas of decoration, the best selection of ribbon color, texture, and pattern will add an extraordinary touch. All these tutorials will give step by step in this article.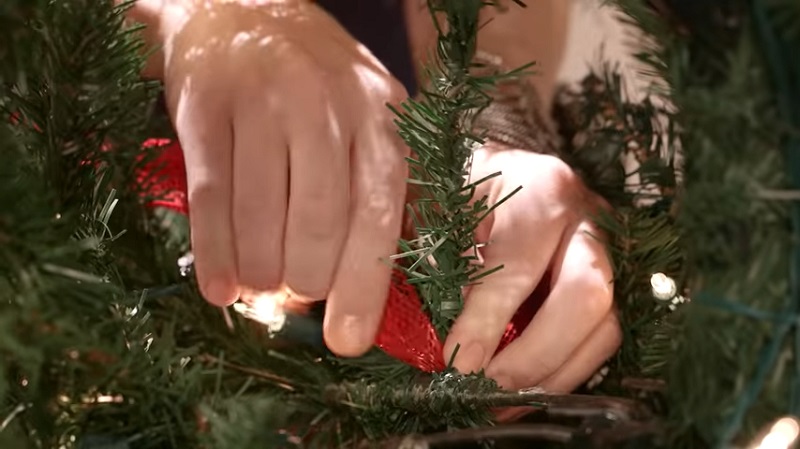 Vast Discussion How to Put Ribbon On Christmas Tree
First of all, think of your Christmas tree like a project. An animated Christmas tree carries different materials. To design your Christmas tree marvelous, you can definitely use lights, toppers. But spools of ribbon also make the most beautiful additions to your design.
For Christmas tree decoration, ribbons are just amazing. For creating an elaborate wonderland and traditional Christmas, the ribbon can be used on your Christmas tree to set a glorious stage.
When you try to investigate how to decorate a Christmas tree, you will probably find out a big split. Always starting with ribbon is the best way. To get a good base and starting point, using the Christmas tree ribbon is a good decision. Ribbon in different sizes depends on the base of the tree.
It also depends on the size of tufts and the deepness you go into the tree. According to the size, you can modify the size.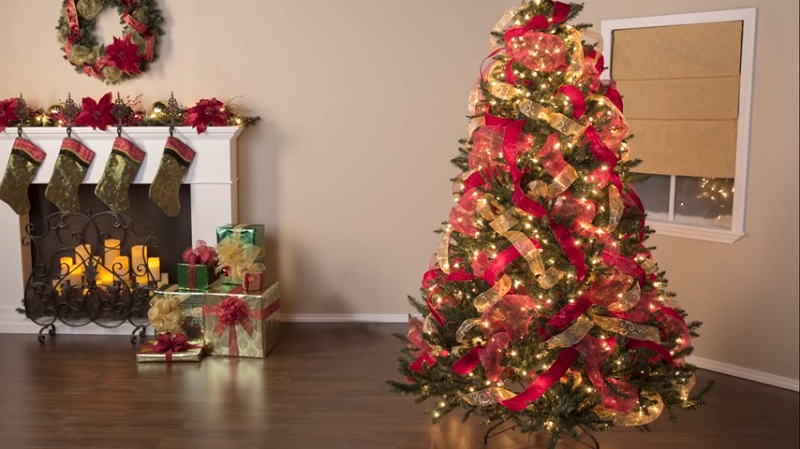 Using the ribbon on the Christmas tree is indeed to change the look of the tree easily. In the case of metallic ornaments, you can change the ribbon, which changes the total color scheme of the tree. To decorate the Christmas tree perfectly, you may need some materials like mesh gold glitter, satin white and gold stripe, silver sparkly ribbons, and black velvet. Also need some tools
Your Christmas tree
Different sizes ribbon garland
Green chenille stems
Scissors and stapler
Ornaments
Different lights
Ladder or chair
Best Way to Ribbon Selection
How to decorate a Christmas tree with ribbon is a question. Ribbon decoration is perfect for a very traditional look with the Christmas tree. You can use this ribbon in different looks. You can have the ribbon cascade vertically down the tree, around the tree like tinsel.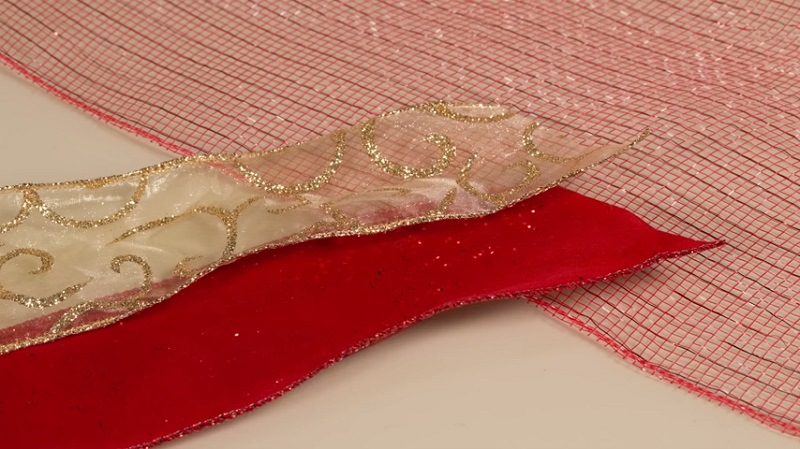 You can also make the ribbon into bows and can attach them to the top of the tree. Also set around the tree like ornaments. Different ribbons create different looks. Let's discuss-
Decoration of Short Ribbon
The ribbon on the Christmas tree decoration is a good step. Everyone should take the Christmas tree ribbon ideas. You can use here the shorter strips. Just take the ends of the strips and attach them to the selected sections of a tree. You can get a different little creative because of the shorter strands.
To get different effects, you can also mix ribbon. You can get different widths to different colors according to your own choice. You can also get the best Christmas tree decoration with a short ribbon. It could be a happy family activity by decorating a Christmas tree in this way. It can really create the tree feel like your own creation, just using ribbon or other ornaments.
A Vertical look can make in two ways like waterfall and ringlets. They look curled as they come down the tree. To achieve the curl look, you have to follow some steps. At first, dampen the ribbon and wrap it around a skewer. Then place the ribbon in the oven at medium heat until it becomes dry to achieve a curled look. If you have an artificial tree, you can secure the top of the ribbon at the top with the tree.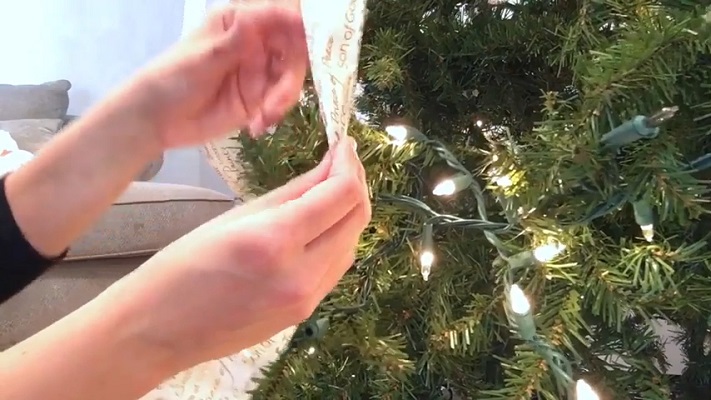 In the case of a real tree branch, you can use different ornament hooks to hook the ribbon. At last, you can cover the ends by attaching the ribbon to the bottom of the tree and also by wrapping it extra to the branch of the tree. You can cut smaller strips or work with a long stretch of your ribbon to get a waterfall look. After that, you should measure out the stretch of the fabric and hook it with a branch.
You should continue the work until you complete the work of your Christmas tree. After decorating from top to bottom of the tree, it should repeat for a glorious look.
The technique of horizontal ribbon is the same as vertical ribbon decoration. You can set the ribbon around the tree like tinsel. For security, you can twist branches around the ribbon. Small cuts of wire ornament hooks also can use to secure ribbon for a real tree.
It will also give the ribbon a puffed look. To save your time decorating a Christmas tree with ribbon is a good way.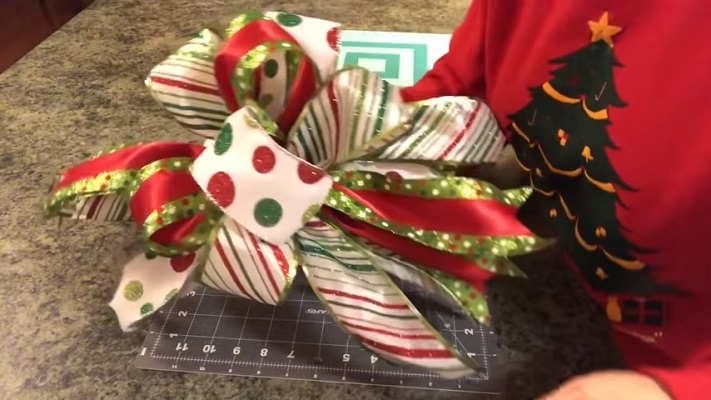 Different ways of decoration with ribbon in a Christmas tree are more beautiful. After that, all need a pretty bow. Bows can be big or small according to the width of the ribbon. You can do it with your family with these all-fun DIYs.
Crisscross Ribbon Decoration
Christmas tree with crisscross ribbon is very elegant and most beautiful also. The crisscrossed ribbon makes a very well decorated appearance for an elegant, lavish look. To create a beautiful and elegant look, the crisscross technique offers a unique approach for any gorgeous decorative looking.
The amount of ribbon you needed depends on the size of the tree. You will need six to eight pieces of ribbon cut according to the size of the tree.
You will need about eight pieces of ribbon for a very big Christmas tree. Again you will need ten to twelve pieces of ribbon for extremely large trees that are over eight feet high and three feet wide.
Apply Process of How to Put Ribbon On Christmas Tree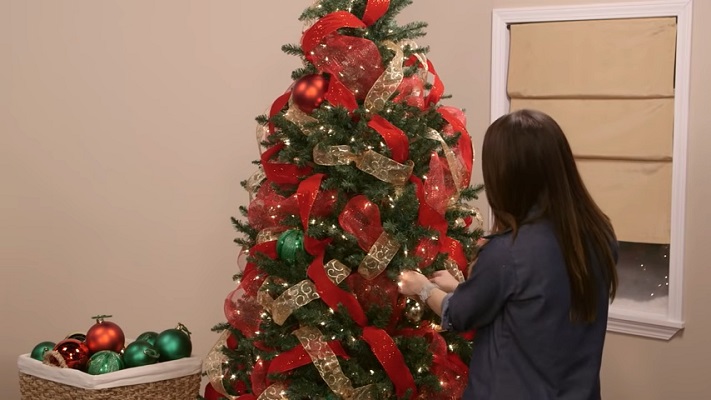 Tree Wrapping Preparation
Needed Two Different Rolls of Ribbon
Different colors, measurements, and a variety of materials are important to ribbon selection. Wider ribbon creates larger loops. The purchasing amount of the ribbon will vary on the base of the tree size. But, generally, about thirty to fifty feet of ribbon can buy, and nine feet of ribbon can use per foot of tree. A width of twenty-one or twenty-two to twenty-five inches is ideal.
Selection of Ribbon Pattern, Color, and Texture
The use of the ribbon depends on the texture pattern. Silk or velvet ribbon is best for neat texture. Mesh ribbon is a good choice also. Red, green, and black colors are a pallet of tradition. For a great effect, you can use the combinations of lime-green, metallic silver, and cerulean blue color.
To create a depth of dimension in the tree's design, you can use multiple ribbons. Using wired ribbons and different shiny materials can add an extra dimension in the case of tree decoration.
Two to Three Strips Ribbon Needed
For larger loops, you can use more ribbon. And to make a smaller loop useless loop. During arranging the strips, you can cut a few more pieces of ribbon. You can cut your strips longer or shorter as your choice.
For Artificial Tree Fluff Your Tree First
Do you use a live or artificial tree? If you have a live tree, it is ready for decorating. If you have an artificial tree, you need to customize it. At first, separate the sprigs around each of .branches so that their position is in the front situation. At first, fluff the inner part of the branch and the outer part next. After finishing, you should take a step back to ensure your work is perfect.
String Lights First before adding Ribbon Around Tree
Christmas tree light up is most important. At first, you have to know how to put Christmas lights on a tree. It becomes very easy to arrange a ribbon around the tree when the lights are up. Best Christmas tree lights give an outstanding look. It is necessary to secure the cord to the top of the tree and plug all lights into a nearby outlet. Work with lights around the tree and wrap the lights around sprigs.
Basic Wrapping Creation of Christmas Tree
Learning how to put a ribbon on a Christmas tree helps you to decorate a Christmas tree with a ribbon perfectly.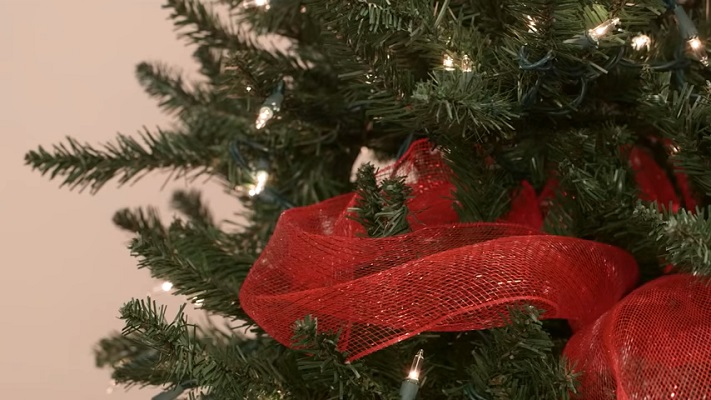 Select a Spot to Set Ribbon at the Top of Tree
Select a sprig that will be a good spot for you. Choosing a spot towards the back of the tree helps you to hide the tail of the ribbon easily. You can know from here the first step of how to put a ribbon on the Christmas tree.
Set the Ribbon Around Your Desired Sprig
Select a good starting point and wrap the ribbon around the sprig. Then blend the sprig slightly due to secure the ribbon. This work will be helpful only for the tail of your ribbon. If you want, you can use mesh ribbon to the outer and inner branches.
Create a Billowed and Second Tuft with Your Ribbon
You can turn the tuft slightly to sit on top of a branch. Set up your ribbon into the branch inside for making one pouf. Check your created first loop and also secure from the center to another spot on the tree.
Adding More Christmas Tree Ribbon Strips all Over the Tree
Never forget the top part, and you can repeat each type of ribbon. Though loops don't have to match perfectly, make the loops in some size. At the time of setting your ribbon, you can also continue to run your work like your tree fluff. You can always add more ribbons. Before filling out your ideal length, you should start with a test piece first.
Arrange Your Tree for Extra Glow
You can tie store-bought bows out of the remaining ribbon. For adding an extra festive look, sprinkle them more.
Mini Christmas Tree decoration
Mini Christmas tree decoration is pretty quick and easy to make. For decoration, the Christmas tree needs some parts like the tree, topper, ornaments, lights, skirt.
Tree-you can use sisal trees for decoration because these are the easiest to find. These trees come in various sizes. The medium size of this tree stands about 5 inches tall, which is much better to decorate.
Component-using ball ornaments give a great look. You can use mini Christmas tree lights, shiny pipe cleaners, strips of metallic paper. You need the number of ornaments depending on the size of your tree. You can also use gold or pearly dust for additional sparkles.
At first, cut two pieces of stars about .75 inches. You have to find out fabrics. Here the skirt can cover over the bulky tree stand. Take a toothpick and set the star on top of the tree.
Reviewing the Tree
How to put ribbon on Christmas tree is a big question. It is correlated with reviewing the tree. You can read the full review of the best mini tabletop Christmas tree.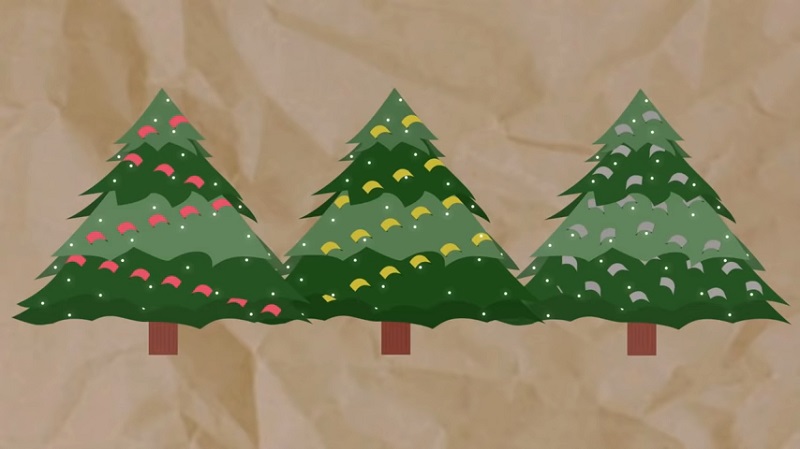 Use the Extra Layer of Ribbons to Fill up the Blank Space
After using the first ribbon, add the second ribbon to the blank spaces of the tree. Always try to create two tufts with one ribbon.
Decorate Your Tree with Common Familiar Ornaments
You can hang festive and different decorative ornaments like different colored shiny bulbs and many traditional family ornaments. After finishing ribbon wrapping up the tree, you can place these ornaments around the tree. Besides these, pinecones and many artificial holiday flowers like poinsettias, holly, and amaryllis can make your Christmas tree gorgeous.
You can also choose holiday-colored flowers like white, pink, or gold. Ornamentation is important after the ribbon is secured. You can cut the stem short if it is too long. It should be filled in the open spaces and covered with a little ribbon. You can spread the snowball blooms.
For a single tree, the next step should be added to some moose on the branches. It should be covered with shallower ribbon loops.
After adding the biggest elements, ornaments needed to add smaller picks like berry sprigs. It helps to hide more ribbon security areas. Using too many picks helps to take away from the intensity of the tree. Different ornaments can help to cover those spots.
You can enjoy lots of fun with different Christmas tree decorating ideas like
Soft Christmas tree ribbon garden, decoration with jute ribbon, ribbon garland with DIY jute, ribbon garland with red plaid, garland with jute rope, Christmas tree topper with a simple ribbon, Christmas tree ribbon with white color.
Video Tutorial of How to Put Ribbon on Christmas Tree?
Final Verdict
Decorating tips and techniques with ribbon are much helpful in decorating a Christmas tree. In this article, you can learn how to put ribbon on Christmas tree from basic to advance level. Decorating with ribbon tutorials aims for a complete and gorgeous look. It looks natural and has an outstanding cascading effect.
When the ribbon is placed on a tree, it helps to create more volume. And it also creates fullness in the Christmas tree. Some artificial Christmas tree recycling processes can be active, which gives a second life to the ornamented tree.
Other Popular Topic of MiniTen.guide
How Much Do You Recommended This Post
Summary
Decorating tips and techniques with ribbon are much helpful in decorating a Christmas tree. In this article, you can learn how to put ribbon on Christmas tree from basic to advance level. Decorating with ribbon tutorials aims for a complete and gorgeous look. It looks natural and has an outstanding cascading effect.