Introduction of Dawn Simulator Alarm Clocks
Waking up with the regular-old dawn simulator alarm clock. What a heart-stopping, annoying way to open your eyes and start your day!
Loud sounds or music, suddenly waking you up in the complete darkness, is the second-worst way to get out of bed (after a big bucket of ice water on your face).
But the good news is
You can wake up every morning feeling calm, relaxed, and energized, opening your eyes to gradual soft light and sounds of birds chirping. And change your entire day for the better.
All you need is a light therapy dawn simulator alarm clock.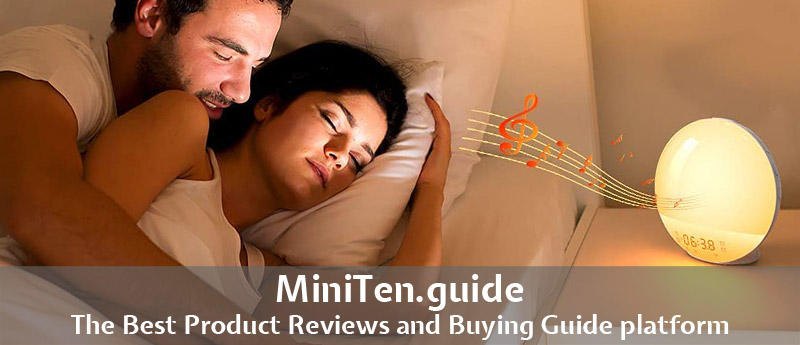 A light therapy alarm clock works with your body's natural rhythms to wake you up with brightening light just like light therapy devices. That re-sets your sleep/wake cycle to help you feel refreshed, alert, and energized all day.
Most light alarm clocks, like the Philips, Wake up light, will also simulate dusk to help you fall asleep.
But you're probably wondering
Which one is the best dawn simulator, for the least amount of money? Is a dawn-dusk simulator even worth the spend?
In this post, I'll answer these questions, review the 3 best sunrise (and dusk) simulators Alarm Clocks in 2021. And show you where you can find the best prices for them.
But first, you need to know
How Does a Dawn Simulator Alarm Clock Work?
Did you know that even when your eyes shut, they register and recognize any increase in light, and signal the body that "the sun" is coming up?
The pineal gland is signaled by the increase in light to produce serotonin – The "feel good" hormone and cortisol – That wakes you up as nature intended.
At the same time, the gradual increase in light reduces the production of sleep hormones (melatonin). This is the best way to prevent morning "grump" and irritability. You wake up as you would if you were sleeping in the forest.
The immediate result – More productivity, energy, and lifted mood for the rest of the day.
Read more: What is LED Light Therapy Treatment
The Top 3 Dawn Simulator Alarm Clocks
You've got lots of sunrise alarm clocks to choose from, with different features, elements and of course – Prices. Through my research, the 3 best dawn simulators in 2021 are:
#1 – Philips Wake-Up Light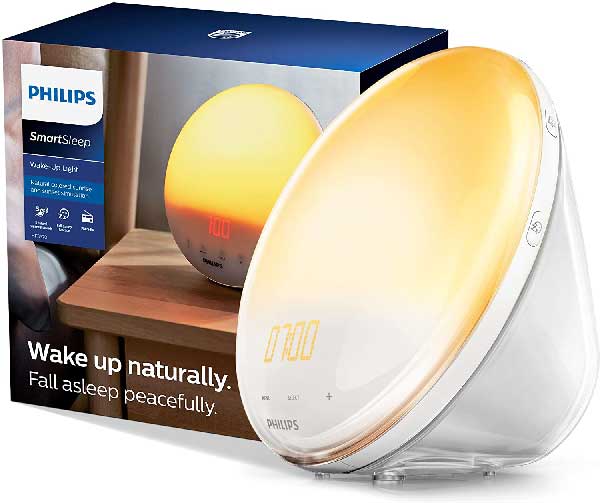 The Philips HF3520 is an official light therapy product of the National Sleep Foundation – For good reasons.
The Philips design wake-up light (LED light) simulates both dusk and dawn. So you can use it as a natural way to fall asleep and wake up gradually, feeling energized and calm. Through re-setting your sleep cycles naturally.
How Philips Wake-Up Light Works
The UV-free wake-up light (with 20 brightness settings!) increases between 20-40 minutes before your wake-up time.
You can activate the Wake-Up Light's snooze by touching anywhere on the light after your alarm goes off, giving yourself an extra 9 minutes of sleep.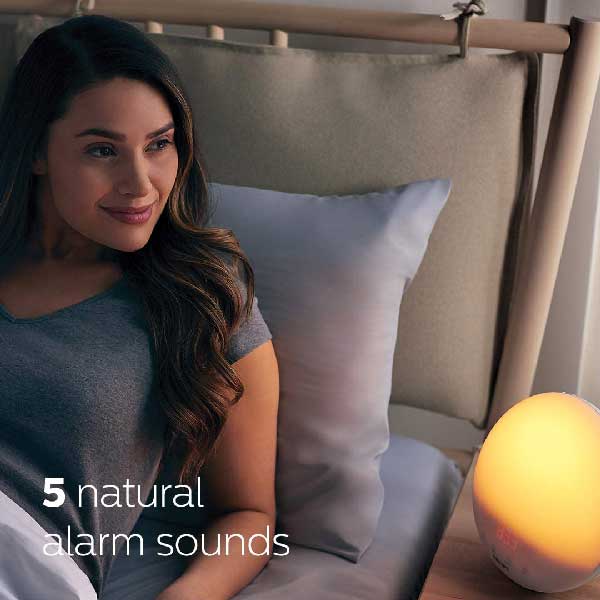 You don't have to worry about pushing the device to the floor because it the durable. Wake-Up Light design with non-slip rubber feet, keeping it secure on your nightstand.
You can choose to add one of 5 different nature-inspired sounds, like chirping birds (my favorite) or FM radio.
The sound takes a minute and a half to reach full volume and if you want, you can use it without any sounds at all.
Product Dimensions: 7.9 x 10.6 x 10.3 inches ; 1 pounds
You can select the light intensity that you feel most comfortable with, up to 300 LUX. Higher levels will wake you up faster, lower levels wake you up more.
A light bulb is an LED, which supposes to last for about 20 years.
100/240 V
This product is powered by electricity through a 110V AC cord that plugs into a wall socket. There is no battery backup.
2 years.
Changing the different features is pretty easy.
The price is a bit alarming (pun intended), but the prices for all dawn simulators are about the same. Most users find it worth every penny and it seems like a high-quality product that won't break down fast.
It will take you a few days to figure out the light intensity you want to wake up to and the sound. That you prefer waking up to (my favorite is the chirping birds).
The price is a bit on the high but all in all the benefits make it worth it in my personal opinion.
If I had 1 of these 3 dawn simulator alarm clocks, I would go for the Philips HF3520. It's easy to use, it's well-built and configured, and has many great features. Plus I love the design!
#2 – BioBrite Sunrise Clock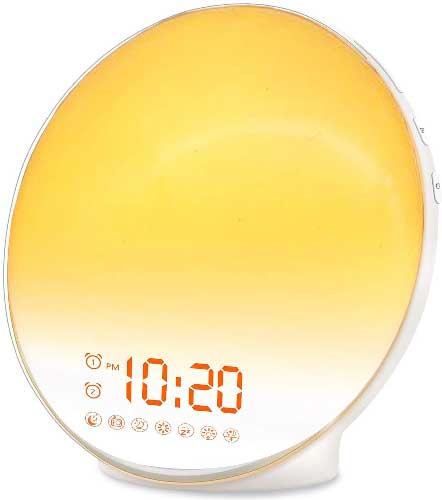 The Biobrite has almost the same features like the Philips Wakeup Light, with different settings for sunrise and sunset.
But, the Biobrite dawn simulator lamp doesn't have the spa/nature sounds feature. Only a medium-noisy beeping which you can choose to use (or not) along with the light.
Unlike the Philips HF3520, the Biobrite has an optional beeper and power failure backup for reassurance, something that may be important to you.
How does the BioBrite Sunrise Clocks work
You can set dawn and dusk cycles of 15, 30, 60, or 90 minutes, and the LCD display fades to a very low level when you want to sleep.
The light won't turn off by itself, of course, it stays on until you hit the snooze button (The little "minus" button) and hold it as the light dims down.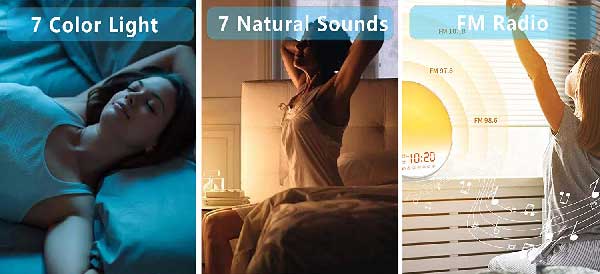 It's quicker to turn the buzz off first (if you decided to use it along with the light) and then the light.
9.5 x 7 x 7 inches ; 3.5 pounds. This one is quite large. It looks small in the picture but has a base of about 9″ x 4″ and a height of about 7-8″.
Incandescent (replaceable).
Corded but has a little battery for backup, to maintain the time. But the light doesn't work if it's not plugged in.
1 year.
The Biobrite is not as easy to use as the Philips HF3520. It takes more time to set the wake-up time and it doesn't come with any nature sounds.
The prices for all dawn simulators are about the same. The price is a bit alarming.
If you were my friend I would advise you to go for the Philips, but this one is cheaper and while a bit more complex to use, still gets the job done.
#3 – Verilux Rise and Shine Dawn Simulator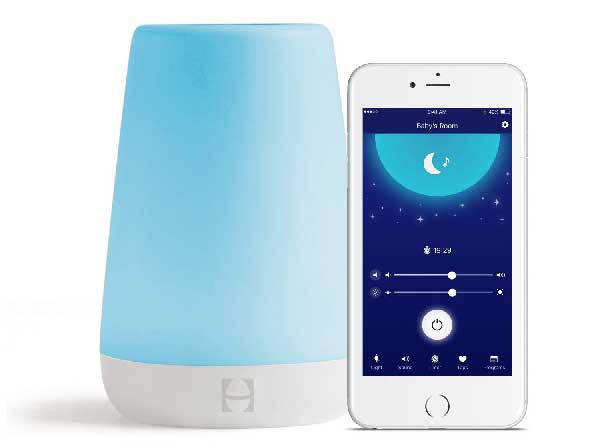 Dawn simulation through the Verilux Rise and Shine is made with a regular incandescent bulb.
Like the other ones above, it has both dusk and dawn features, plus 4 built-in nature sounds to fall asleep or wake up to (Songbird Serenade, Pond Life Harmony, Ocean Rhythms, or Streamside Melodies) and FM radio.
It also can use as a bedside lamp and has 20 different light settings.
How does the Verilux Dawn Simulator Works
To turn the light off, you can press down on the dome, and the light will turn on / off. This is also the snooze button for the alarm, but you can choose not to use any sounds at all.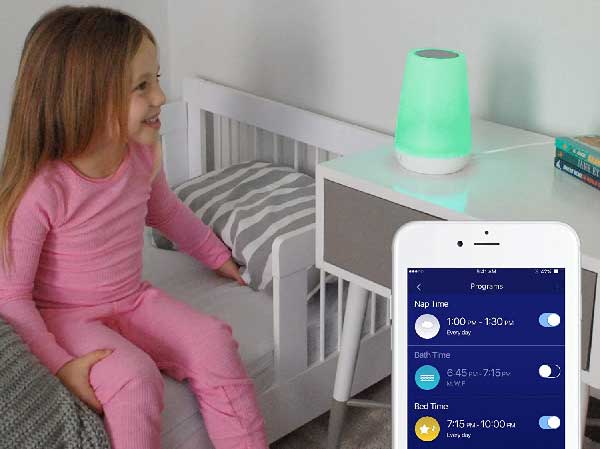 The Verilux doesn't have a sunset feature, but you can set it for a time in 5-minute increments – for example, 10, 15, 30 it will darken and go off.
8.8 x 6.8 x 12 inches ; 2.6 pounds
UV Free – Yes.
The Verilux Rise and shine are the cheapest one of these three. You can see the current price HERE.
It's getting more and more difficult to get incandescent bulbs and you can only replace them with a bulb. That is compatible with an incandescent dimmer.
Looks funny, it's a little tricky to use, but a good night table lamp and alarm.
Read more: Best Every-Day Uses of Red Light Therapy
Who Should NOT Get a Dawn Simulator Alarm Clock?
If you are miserable when awakening to dark surroundings, a dawn simulator alarm clock will be a game-changer for you.
A sunlight alarm clock will also be of great help to anyone suffering from trouble in falling asleep and waking up early and do not want to use medication. Dawn simulators help to re-set the circadian rhythm naturally.
If you suffer from "winter blues" symptoms (SAD) you should not get light therapy alarm clocks, but instead a full spectrum SAD lamp/lightbox (10,000 LUX).
Other Popular Topics of MiniTen
How Much Do You Recommended This Post
Summary
We have tried to keep this post short and informative. If you think you got some good information about Dawn Simulator Alarm Clocks then I think you know what to do.