Introduction of SAD Light Box or Therapy
Did you know? The SAD light box is becoming a first-line treatment for seasonal depression. And It is scientifically proven to be an effective drug-free treatment for SAD ("Winter Blues").
You may ask What is LED Light Therapy Treatment and How Does It Work? Read more about light therapy Treatment.
It seems simple to choose a SAD light therapy home device, right?
Some bright lights, delivered through a lightbox, or a light lamp, you place it near your eyes every morning and you're done with SAD.
Unfortunately, it's not that simple.
Light therapy for SAD has to be done the right way, using the right SAD light box therapy/light therapy lamp.
It requires a specific light intensity, it needs to be safe, it needs to be durable and of course, for some of us, the design and the price are also important factors.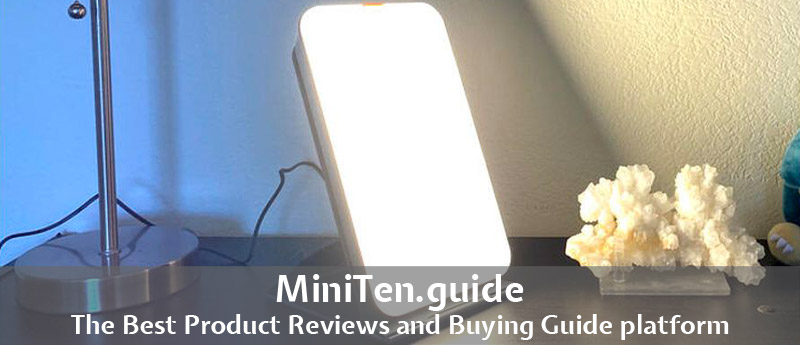 So How to Find The Best SAD Light Box Treatment Product?
We've researched for you. Isn't that comforting?
Here you'll find all you need to know before you buy your bright light therapy home device. Also, we will know where to find the highest quality product, for the lowest price.
Sounds good? Let's go.
SAD Lamp vs. SAD Light Box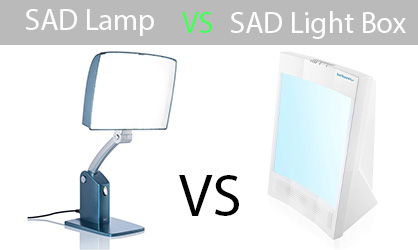 Maybe you've heard about the 2 options SAD Lamp and SAD Light Box. But if you haven't, you should know that you can use either a SAD Lamp or a SAD lightbox.
A SAD lamp is exactly like it sounds, it looks like a lamp. A desk lamp and its average size are like the size of a normal desk lamp.
Day-Light Sky SAD Lamp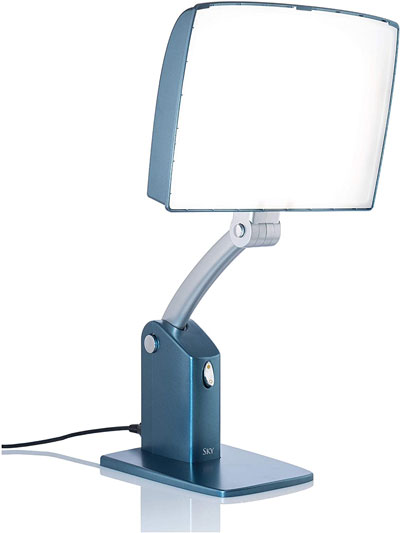 When it comes to you and treating SAD. This means you'll need to be closer to the device during treatment. Because the small "treatment head" requires you to be closer to absorb the light through your eyes.
If you don't have much space to spare and it feels more comfortable for you to treat yourself. While you're working on your computer or reading at your desk – A SAD lamp is a good fit for you.
A SAD lightbox is usually much larger than a light therapy lamp. This means you can be a little further away from it because the treatment area on it is larger.
Naturebright Suntouch SAD Light Box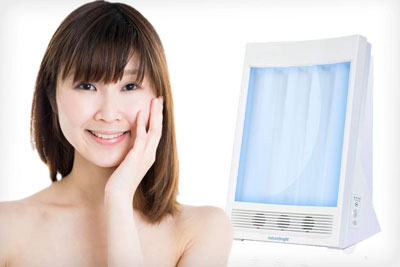 But, both the SAD lamp and the lightbox should emit the same light intensity for SAD – Which is 10,000 LUX (more on that below).
Soothing Light Therapy Lamp
This Nature Bright Sun Touch 2-in-1 Light Therapy Lamp combines fresh air and light therapy in its compact design.
This super sad light box will help you to brighten your spirits in the winter season. It will keep help you the rest of the year. So, you don't need to worry about anything.
It has an awesome customize mood light. Since 2001 it is helping people in their hard times and toward a brighter future.
SkyEffect technology emits 17,000 Kelvin UV-free light
Designed with a slim footprint and upright design
Recommended by the Columbia Department of Psychiatry and University of Texas Medical Branch
The SunTouch 

Plus

 is an ideal solution for those suffering from mood swings
10,000 Lux light to help boost your mood
Nature Bright SunTouch Plus Pros and Cons
Pros
Convenient and Compact Design
Perfect Mood Enhancer
Customize Mood Lights
Sky Effect Technology is cool, safe, and comfortable.
Cons
7 Important Factors in Choosing Light Therapy for SAD
First, you'll need to understand how SAD light box therapy works, and why it works so well (if you do it right):
The light from a lightbox mimics outdoor light (full spectrum light). (By the way, bright light therapy can also use to help re-set sleep cycles (circadian rhythm), which may play a role in mood swings).
Lightboxes are mostly used for half-hour or longer each morning.
But how bright should the light be? Is it fluorescent light? LED light? which one is better? The questions keep coming, and I'm here to answer them all.
Lightboxes/lamps differ in light intensity, size, shape, and features. They are all designed to be safe, but they are not regulated by the FDA.
These are the things you should consider to find the safest and the most effective light treatment for SAD.
Only choose a lightbox/lamp that provides the right light intensity when you're at a comfortable distance.
For example, you can use a lightbox that produces 10,000 lux (a measurement of light intensity) 12 to 14 inches (30.5 to 35.6 centimeters) from you for 30 minutes each morning.
But, using a SAD lamp that produces 2,500 lux at the same distance may take two hours or more to achieve the same effect.
Generally, the "gold standard" for light therapy boxes is no less than 10,000 LUX (Like this one).
Blue Light/Full Spectrum Light
The research found blue light at a certain range can be even more effective for depression and SAD than bright full-spectrum light.
But, blue light may cause some damage to your eyes so avoid looking at the light source in any lightbox that you buy.
Right now opinions differ about which treatment is better for SAD but one thing is for sure – They can both work.
One of the best-selling blue light therapy boxes is the Philips goLITE BLU, which I can recommend because I own one, and love it.
Make sure that the lightbox you buy filters UV rays. Through my research, they all claim to do that, but checking again can't hurt.
Most bright light boxes for SAD use fluorescent light bulbs, which last about 8000 hours. This means you may need to replace the light bulbs every 2 years.
Blue light therapy for SAD uses LED light bulbs, which are more efficient and lighter weight than standard lights and fluorescent.
LED technology is more expensive and LED light lamps, like this one, cost more.
So, LED light bulbs last for 20 years with no problem. I'm lousy at math, so you'll have to calculate which option has a better ROI.
Design and Extra Features
Make sure the size of the SAD light box fits your need.
Some lightboxes/lamps offer more than an Off and On switch. Such as a timer you can program, adjustable brightness (to use as a reading lamp, for example), extended batteries, and more.
The cost of the different lightboxes and lamps hugely varies. Like I've mentioned earlier, the Naturebright Suntouch is one of the most affordable ones, but uses fluorescent bulbs and takes up a lot of space.
The 2 best SAD lamps cost more than a hundred dollars, but I like their design, they are small, portable, and can use at work or when traveling.
My Personal Recommendation
My personal recommendation is Naturebright Suntouch SAD Light Box. You will get everything with it. If you are depressed and want to get back to an awesome mood you should get this product ASAP.
Naturebright Suntouch SAD Light Box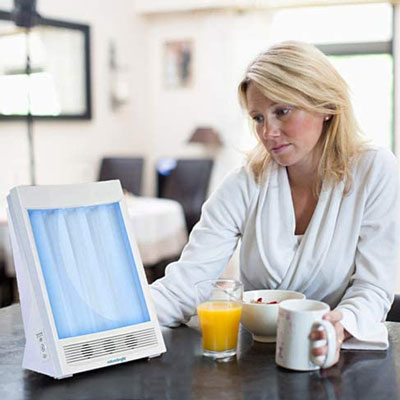 Final Verdict
I really hope this ultimate guide to choosing SAD Light Box has helped you very much to make a good decision. if you have any other questions, I'm right here.
Video Reviews of Sad Light Therapy
Other Popular Topics on MiniTen
How Much Do You Recommended This Post
Summary
I have tried so much to make things clear. I really hope this ultimate guide to choosing SAD Light Box has helped you very much to make a good decision. if you have any other questions, I'm right here.